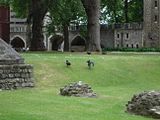 All of the streets in London have either "Look Right" or "Look Left" painted on them, depending on where traffic is coming from. Just in case you couldn't tell by actually looking at traffic.
The ravens at the tower of London. There's a cool story about them (Google it!).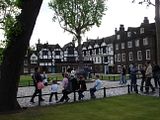 The queen's quarters at the tower of London. Despite the fact that no queen has lived here for hundreds of years, they still have a guard posted at the door per tradition.
Interior buildings at the Tower of London. The one on the left houses the crown jewels (no pics allowed).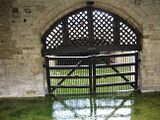 Traitor's gate, where such traitors as Sir Walter Raleigh and Anne Boleyn were brought in.
More of the Tower of London...the wall on the left is the Bloody Tower. Cool stories about that exist as well. Check them out.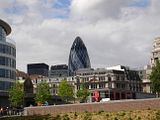 The Middle Tower, where you enter the Tower of London.
The Gherkin. Also called "London's Egg". Dirty jokes abound.

Exterior of the Tower of London. One of my favorite places from the trip.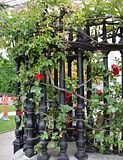 Obligatory red telephone booth pic.
Roses outside of St. Paul's Cathedral.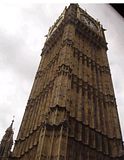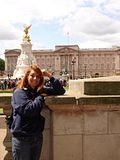 Big Ben - is the bell! Not the clock! Not the tower!
Me in front of Buckingham Palace. Not much of a palace if you ask me. Where are the turrets?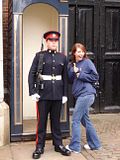 Guards lining the street outside of Buckingham Palace. I wanted to touch the hats so bad.
Me and a guard outside the palace where Prince Harry and Prince William live when in town (which they weren't - I checked).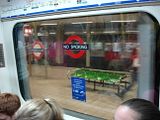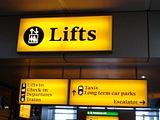 I really wanted to get a "Mind the Gap" t-shirt but kept forgetting.
I love that elevators are 'lifts'. I also love their symbol for women - look at her cute poofy skirt!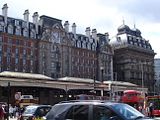 Tower of London, which was really freaking cool.
Victoria Station. I don't know why I took a picture except it was pretty.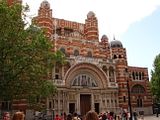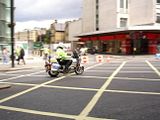 Westminster Church (NOT Abbey), where we went to church on Sunday, instead of getting to shop more.
London cop on motorcycle and also the Sweetest. Picture. Ever.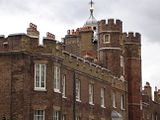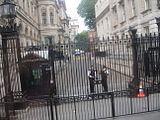 The palace where the princes stay when in town. I couldn't find a way in. I tried.
I don't know why I took a picture of this, either. I think there's a palace back there somewhere. It's a safe bet. There're all over the place. (Update: Apparently, it's Parliment.)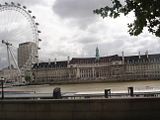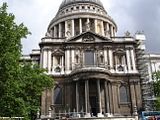 The London Eye and County Hall.
St. Paul's Cathedral, the second largest church in the world.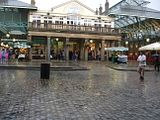 View out my hotel window. Booyah.
Covent Garden, where you can buy anything. Miles of vendors. Note the POURING F-ING RAIN.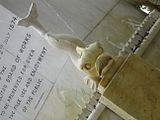 Fountain at Leiscester Square. I want that fish.
View of London Streets from Trafalgar (spelling? too lazy to look it up) Square.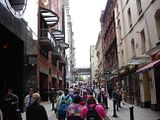 Me looking damn cute in front of a lion at Trafalgar Square.
The troupe of girls walking down the street. Note the restaurant on the right named "EAT." I think that's the most brilliant name for a restaurant ever.